NHSScotland Careers
02 December 2021
•
4 min read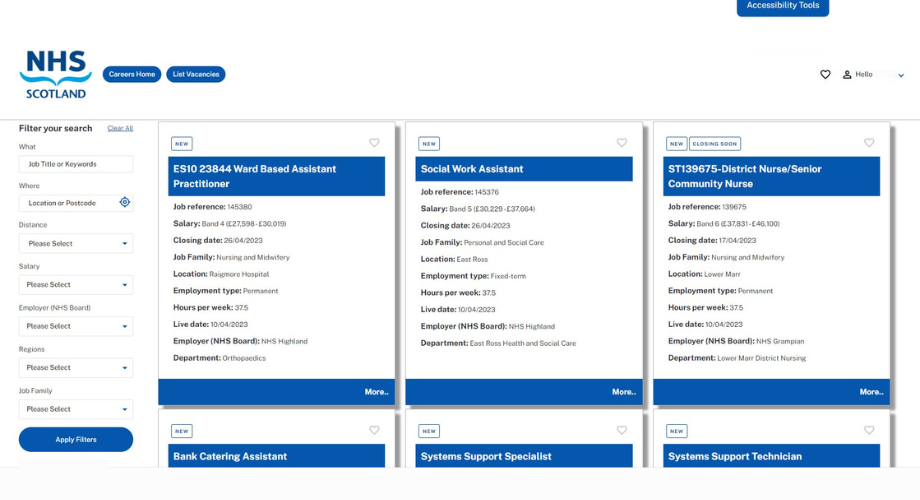 Getting started
Need help completing your online application for one of our jobs? We're here to help you prepare. Keep reading to find out what we'll ask you to provide when you apply for a job in the NHS. You'll learn:
what details you'll need
how to present your information
top tips for a great application
Your job search
First, search for job opportunities on our recruitment website.
Click on a job that interests you and download the application pack.
Application pack
Our application packs include lots of useful information to help you decide if it's the right job for you, including: 
salary and number of hours per week
location
type of person we're looking for
minimum requirements, such as qualifications and experience
job description and range of duties
Depending on the NHS Board you're applying to, there may be different names for the application packs. Look out for links on the vacancy webpage that say the following:
candidate information pack
job description
person specification
candidate guidance notes
Remember to open and save copies of all documents. You'll want to look at them again as you complete your application and if you're invited to interview.
Now that you know more about the job, is it what you wanted to do? Great! Click apply and tell us why.
Completing your online application
To complete your online application, you'll need:
an account on our recruitment website
your personal details
your qualifications
your employment history
2 references
You should also make some notes about your knowledge, skills, and experience that make you a good match for the job.
If you already have an account on our recruitment site, please log in. To set up a new account, please register by following the on-screen instructions.
The progress bar at the top of the page shows which section of the form you're updating. Use the continue button at the bottom of the page to move to the next step. Your changes will be saved each time you do this. You can also return to an earlier step if you want to make changes. If you want to save your changes and come back later, click on save and exit.
Personal details
To start, we'll ask for your personal details, including name, address, email address, and telephone number. We'll use this information to contact you or provide updates about your application during the recruitment process.
Education
Next, we'll ask about your qualifications. Please list all the qualifications you already have and those you're currently taking. Remember to include your grades or expected results.
Employment
In the next section, we'll ask about your employment history. Start by adding your first employer and end with your present or most recent job. Always give a summary of what you did in each role. Tell us about training programmes, volunteering, youth awards, and school activities too.
Equal opportunities
We are committed to recruiting, retaining, and developing a diverse workforce. Diversity and equality of opportunity are essential to our recruitment process.
In the equal opportunities section, we'll ask questions about you. Some are mandatory. Please choose options that best describe you.
NHSScotland operates a Guaranteed Interview Scheme. If you have a disability and meet the essential criteria outlined in the person specification, you'll be guaranteed an interview.
References
Next, we'll ask for at least 2 references. References help to show us you have the knowledge, skills, and qualities needed for the job.
The information you provide must cover the last 3 years of your employment history. If you do not have 3 years of employment history, please provide suitable education or character referees, such as a teacher, a lecturer, your doctor, a lawyer, a police officer, or an MP.
You must not use family members or friends. Please make sure your referees have agreed to provide a reference. You'll need to give us their email address and phone number.
Your referees must include your current or most recent employer. Please identify the person in your organisation who is authorised to confirm your employment and application details. This is normally your direct line manager.
The second referee should be someone who has close knowledge of your skills and abilities.
What to do if there are gaps in your employment
If you have any gaps in your employment over 3 months, please provide referee details to cover this period. This could be your work coach at Job Centre Plus or your employability adviser.
Additional referees may be required to cover the last 3 years of your employment history.
We might ask for personal referees
If you have had no previous employment or you've been self-employed, you'll need to provide details for 2 personal referees. If you're shortlisted for an interview, you may need to provide evidence to confirm your status, such as a letter from Jobcentre Plus, your academic record, or evidence from HM Revenue and Customs.
Assessment
In this section, you'll have the opportunity to tell us why you'd be the ideal person for the job. We give you 3 questions to help you structure your response.
Transferable skills
Why do you think you are suitable for this role? Describe how your skills, knowledge and experience match the person specification while also explaining your motivation and goals.
Skills are learned in everyday life:
work
study
activities you enjoy
You'll already have the skills we are looking for.
Transferable skills include:
communication
attention to detail
using technology
problem-solving
time management
working in a team
NHSScotland values
Why do you want to work in the NHS? We want to know why it's the right role for you and about your passion for working in healthcare.
Show your understanding of the NHSScotland values. These are:
care and compassion
dignity and respect
openness, honesty, and responsibility
quality and teamwork
Don't just list them, tell us why you feel you hold them and provide examples. Avoid making general statements without backing up your claims.
Summarise your application
Is there any other relevant information that will help us shortlist your application? Don't leave this blank! Tell us about your career goals and use it as an opportunity to summarise your application.
Sometimes, we may need you to provide specific information or evidence to support your application. The application form may include additional questions related to the advertised job.
Declaration
To complete your application, please read and agree to the candidate declaration. You can also review your application before submitting it.
Top tips
Our top tips for completing your online application
Read the job advert and application pack in full.
Take time to prepare your information.
Make sure you know the closing date. You'll find this on the job advert.
Follow the instructions on the application form. Complete all the required sections.
Don't rush! You can easily make mistakes and forget important information.
Don't leave any of the assessment questions blank!
Always check spelling and grammar. Ask someone to look over your application before you submit it.
Check that your email address is correct. We will contact you by email during the recruitment process.
Good luck with your application!